GPS Data Logger Function
When GSM Network is not available, the GPS data will be stored in the memory upto 17500 records. Once the device receives GSM signal again, the logged data will be sent back to server automatically.
Through GPRS sending GPS data to 2 fixed IP addresses networked by computers.
The tracker will alert you by sending a SMS message to your mobile/PDA, when someone moves the car or the asset without permission over a preset distance. It is recommended to set the geo-fence range over 200 meters.
Assisted-GPS is only application for Tele-communication System Suppliers.
You can have a phone conversation by making phone call to GPS-911, and vice versa. When you get an incoming call, there will be a voice prompt, and then press the "Pick-Up/ Hang-Up" button to start the conversation. You can also dial out to the preset 2 phone numbers.
When you presses the SOS button, the device will immediately send a SMS short-message to the preset phone number.
The report method can be via SMS messages or via GPRS.
You can monitor the situation inside the vehicle remotely from mobile phone by sending a SMS command to this device without interfering the persons in the car.
Other Functions:

Send back data based on the preset time internal or based on the driving distance

Read the volt data by sending a SMS message

Get position data thru phone call

Set the timetable to send back data automatically

Support Sleep Mode

If the speed is slower than defined km/ hour for continuous defined time, the device won't send back data

Sound alert when battery is low
Panel Description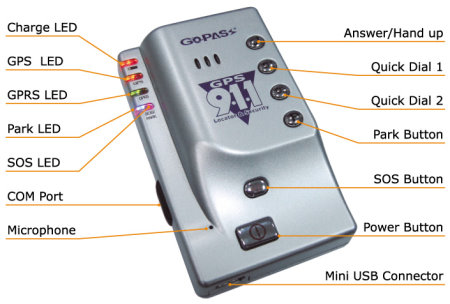 Power Charging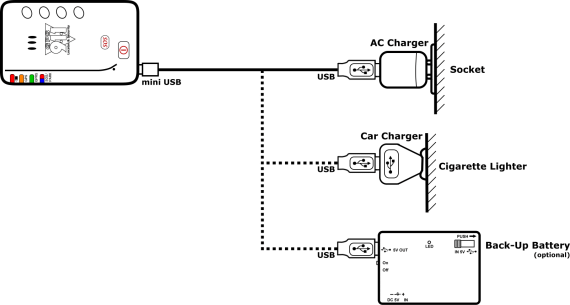 GooLocate
A tracking software for you to track over Maps real-time by your own PC; no need to pay for the maps or service charges. It can also keep history records for you to replay afterwards. As to reports, it can provide you mileage/ routes/ idle/ over-speed/ detailed activity and fleet summary reports for management purpose. Besides, GooLocate software supports "Remote Data Server" function. The data received by server can be forwarded to any PC links to the internet for data sharing. It enables you to set up a mini-control center by yourself. >>Learn More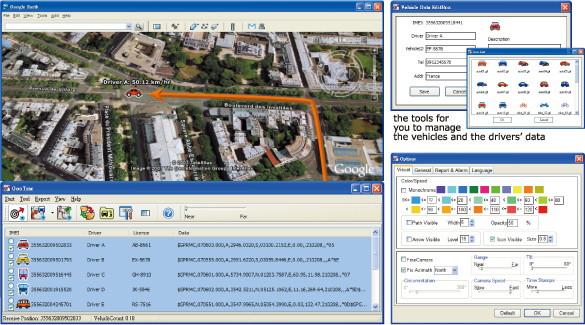 Other free tracking softwares included
real-time track over
navigation map in PC

track the position by
mobile phone

track the position by
PDA phone
Applications
Specifications
GPS-911(R) Hardware Specifications

Weight

80 grams (battery included)

Dimensions

79.50 x 47.50 x 25.00 (mm)

Bandwidth

EGSM900: TX880-915MHz, RX 925-960MHz

DCS1800: TX 1710-1785MHz, RX 1805-1880MHz

GSM850: TX824-849MHz, RX 869-894MHz

GSM1900: TX1850-1910MHz, RX 1930-1990MHz

Maximum
RF Output Power

EGSM900, GSM850: 33 dBm(2W)

GSM1800, GSM1900: 30 dBm(1W)

Resistance

50Ω

Transmission Speed

Circuit switched 4.8/ 9.6 kbps

Sensitivity

-159 dBm

Frequency

L1, 1575.42mhz

Channels

20

Position Accuracy

10 meters CEP without SA

Speed Accuracy

0.1 meters/second, without SA

Coordinate System

WGS-84

Hot Start

< 6 Seconds average

Warm Start

< 38 Seconds average

Cold Start

< 60 Seconds average

Speed

Max. 515meters / second(1000 knots)

Buttons

6 Buttons: Answer, Quick Dial * 2, Park, SOS, Power

LED

5 LED: Charging, GPS, GSM, Park, SOS

USB

Mini USB PORT for charge and connect to PC.

Working Voltage

Rechargeable Li-ion battery3.7V 1000mAh ,5 V Input

Standby Mode

60 hours

Operating Mode

8 hours

Housing

Plastic

Operation Temperature

-20°C to +55°C

Storage Temperature

-30°C to +70°C

Humidity

0~95%, non-condensing
Gift Box